The Meadville, PA manufacturer is investing in its growing assembly business with a new clean room, collaborative robotics and more.
For more than 61 years, C&J Industries has been an innovator in the injection molding and specialty assembly spaces. Even the turbulent post-COVID period couldn't slow this march, as the company's employee-owners continue to invest in their ability to fulfill large and complicated orders for customers.
These customers include some of the leading organizations in the healthcare and telecom industries, all of whom rely on C&J's expertise and dedication to quality.
Soon, the company will be in a position to expand its loyal customer base thanks to a larger facility footprint and updates to the equipment within. The 214,000-square-foot facility is currently being renovated with a 25,000-square-foot addition, including a new "clean room," adding more molding and assembly capacity.
"The building itself is being expanded, and that is primarily for a new clean room that is being built to handle some incoming jobs from existing customers, as well as to help provide molded components for a new job that we're getting in Assembly," said assembly supervisor John Beers. "We have a clean room that is being expanded for a new job that's in assembly, and that will be a fully automated piece of equipment, which is pretty exciting, actually."
When completed, the facility upgrades will allow C&J to increase production volume, take on jobs of a larger scope, and expand services to new clients. This development reflects the company's efforts to rebuild its staffing and capabilities to pre-pandemic levels.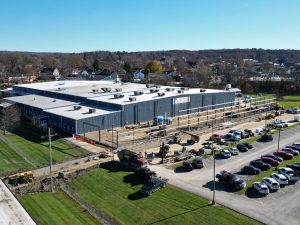 Although the COVID outbreak in 2020 had an unavoidable impact on C&J's supply lines, the company was able to survive the pandemic without resorting to layoffs.
"We didn't consciously cut back, necessarily, during COVID. In fact, we were probably one of a few businesses that didn't. We lost people just as they went to different places, and we had some folks decide to retire … but we didn't lay anybody off through any of that, which is a really great thing for us," Beers said. "Overall, we had a big hiring boost shortly thereafter, we brought levels up to a certain point, and now we've kind of backed off a little bit and we're right about where we were, I would say, pre-COVID."
Now on the other side of these staffing challenges, C&J has learned some valuable lessons on how automation can maximize efficiency by complementing the human workforce.
"While we were dealing with some of the labor issues, we looked at more efficient processes. We were able to transition (some things) – say, we used a pad printing process to print different components before we assembled them, and it was very labor-intensive," Beers said. "Fortunately, the customer we dealt with for that project purchased a different type of equipment and allowed us to merge that printing process into the assembly stage at the same time and saved a lot of that labor.
"So, even though we didn't cut anybody out, we were now able to redirect those people to different jobs," he added. "We had roughly the same number of people, but we were able to do more with that because we're more efficient."
Another aspect of C&J's ongoing evolution is the implementation of cobots (or collaborative robots) in its operations. Designed to be used in close proximity with human operators, these machines can be used to turn a two-person job into a one-person job, with the overall goal to "continue meeting the expectations" of clients and "exceed them where we're able to," according to Beers.
Out of a crowded field of injection molding and assembly specialists, C&J's clients continue to choose them. Beers believes one possible reason for that is the mutual interests and bonds of professional respect that tie C&J and their customers together.
"We seek out customers that want us to succeed and we want them to succeed in return. A lot of times, we'll have customers that will help us invest in new technologies and we may even use customer-owned assets," Beers said. "Also, there's the fact that we've remained local. With the last president that we had, when he retired, instead of selling to somebody else, he allowed us to move forward 100% employee-owned."
As employee-owners, the team at C&J has skin in the game and tangible investment in the company's success. This makes a clear difference to their clients, who value knowing that they're dealing directly with the manufacturers themselves.
"We've seen a lot of businesses in the Meadville area get purchased and sold over and over again, and different things that upset the balance; so I respect the fact that the people in charge wanted to make sure we stayed local," Beers said. "That way, the employees themselves are invested at that point, because it impacts the community and their friends and coworkers."